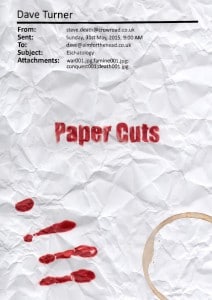 Hello! Well, my new novella Paper Cuts is now available to buy from Amazon here! If you haven't bought a copy, I sincerely recommend that you do. But I would say that. I wrote the bloody thing.
The first part of the story 'How To Be Dead' is also available. You can get a copy of that over here.
If, after reading and enjoying them, you felt an urge to leave a review for them, I'd be very grateful.
A big thank you to everybody involved, whether you backed the Kickstarter project, downloaded the books or re-tweeted and shared links on the interweb. I couldn't have done it without you.